The course is held in English.
Alchemy has not always been about making gold out of lead. Especially in the 16th century, alchemists began to seriously explore methods for producing more effective medicines.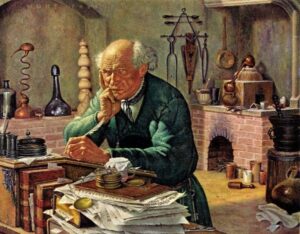 The most famous of the physicians and alchemists who practiced alchemical herbal medicine was Paracelsus, 1493 – 1541. The method of working alchemically with medicinal plants that Parcelsus developed is called "spagyria", from the Greek spao (separate / extract) and ageiro (combine). Through various processes, the herb is divided into three components, one representing the herb's soul, one representing its spirit and a third representing the herb's body. These three parts are processed to later be combined into a "spagyric elixir". The purpose is for the medicinal plant to have an effect on a deeper, and rather psychological/spiritual, level than if one simply consumes the herb, for example in form of tea. A warming or soothing herb is considered to be able to provide a deeper warmth or rest. The same applies to other effects.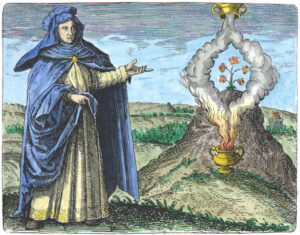 During the course we make a journey through the history of alchemy, but focus above all on the spagyric processes. We will also demonstrate different steps in practice using simple laboratory equipment.
Many alchemists, ever since the 5th century, describe their laboratory work as a reflection of an inner work. This view also very much characterizes the work performed by today's alchemists.

Course instructors
Lisa Jeannin and Janne Hallqvist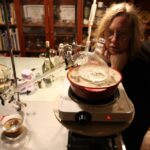 Lisa is one of Sweden's few full-time alchemists. She is also an artist, and weaves alchemy into her artistic expression. Lisa often leads courses in alchemy on her farm outside Tranås.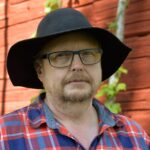 Janne has been employed at Biskops Arnö since 1984, when he took part in starting the ecology course. For 15 years, his subject was mainly ecological technology. In 2001, he started the course Medicine of Nature, where he teaches herbal medicine, medical history as well as Chinese and Ayurvedic medicine.
Janne's educational background is as a heating and ventilating engineer, masseur and Ayurvedic health consultant. Janne is mainly self-taught in herbal medicine. In addition to teaching, he provides natural medicine health consultations. Janne has written two books, Örtapoteket – Läk dig själv med Ayurveda och naturens mediciner (The Herbal Apothecary – Heal Yourself with Ayurveda and Nature's Medicines) and Ayurveda – Finn din unika väg till hälsa (Ayurveda – Find Your Unique Way to Health).
Detta förväntas kursdeltagaren kunna efter avslutad kurs
Kursen syftar till att ge en bredare förståelse för örter och deras medicinska verkningar genom teoretiskt och praktiskt arbete.